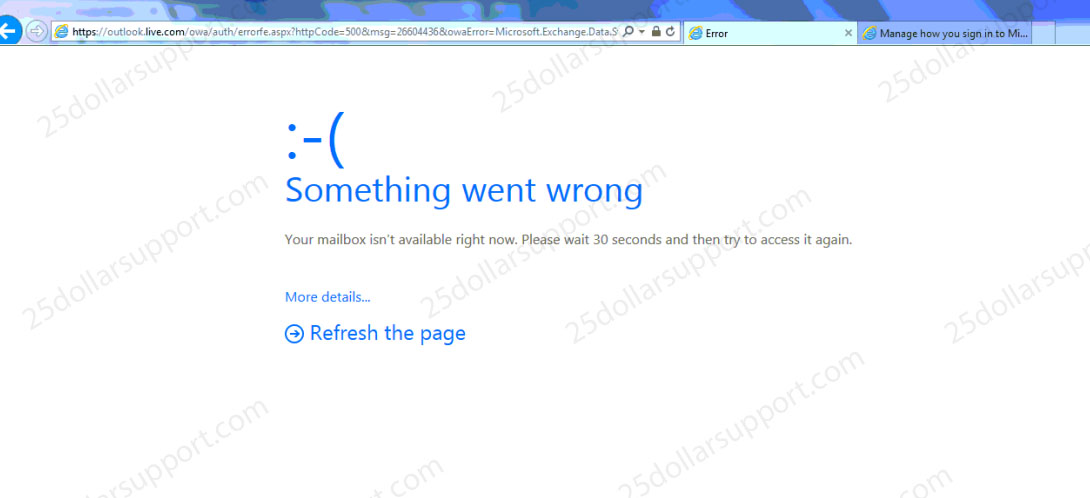 Something went wrong
Your mailbox isn't available right now. Please wait 30 seconds and then try to access it again.
X-ClientId: 08L4F73935B5425186351CSFDE67D1AC
request-id: b90971c9-ab16-40be-be0d-79993f048aef
X-OWA-Error: Microsoft.Exchange.Data.Storage.WrongServerException
X-OWA-Version: 15.1.6178.98
X-FEServer: MWHPD12CA0036
X-BEServer: DM5PD18MB1193
Date: 6/19/2017 2:01:19 AM
Solved- Something went wrong, Your mailbox isn't available right now. Please wait 30 seconds and then try to access it again.
Today we have a new customer she has tried her own method to clear the cache, cookies, reset the browser still she was not able to get into her email,  she also has contacted the Official Microsoft tech support but he was not able to get a solution so she contacted 25dollarsupport.com
There are many ways to get into your emails using a email client like Mozilla Thunderbird
To fix your mailbox isn't available right now problem you need to first create a email alias name.
Sign into www.account.microsoft.com and create a new email alias.
Now you need to sign in with your new aliens or go to your Mozilla Thunderbird email and add a new account and it will start downloading all your emails.
If you are at a situation where you cannot download Mozilla Thunderbird or if it is freezing  while downloading the emails Or your Internet speed is slow on limited then you  create a new Gmail account  or use the existing one but I would recommend you to create a new account.
Go to  Gmail  settings add account and then try with IMAP setting or the pop whichever works sometime the pop settings may not work or try the IMAP  or pop settings.
Downloading Outlook emails in your Gmail account will start so you will have the access to your on your email but downloading the emails may take a time so you need to have patience.
You can also get a life health status of all the  Microsoft services from this website https://portal.office.com/servicestatus