How To Fix Error Code 268D3?
Yesterday I received a pop-up window informing that my PC had been blocked to save personal information that is stored on it.
A remote support number is provided, and I'm supposed to call for it so that my Facebook login, credit card details, email account login and similar information would be saved from theft. The message also indicates Error code 268D3. How should I react to this message?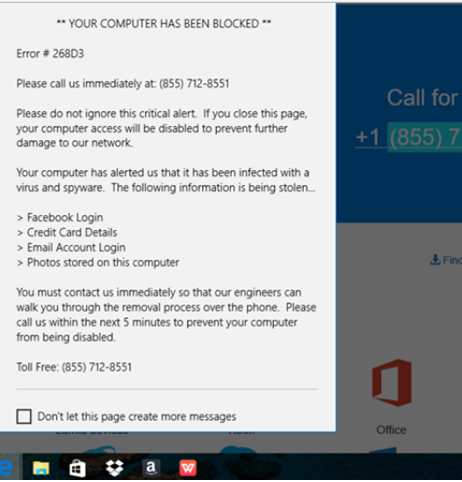 First of all, don't believe a single word written on it. This popup is just to provide a technical support from a website. You should not call at this number as it is just a scam to provide a technical support. It is just an adware that is distributed via software packages. Sometimes the screen of your PC may look like the picture given below: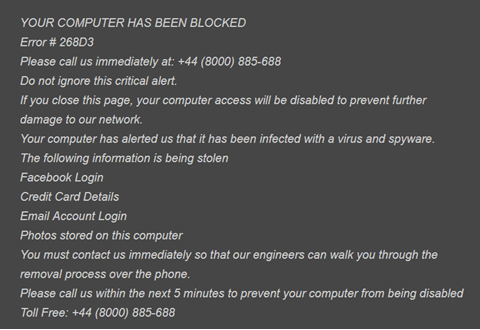 Method to sort out this problem: – It is very easy to remove this code. As mentioned above it is just an adware, so follow the steps given below to remove adware: –
Go to Start→ Control Panel → Programs and Features. (Windows 7/10 or Vista)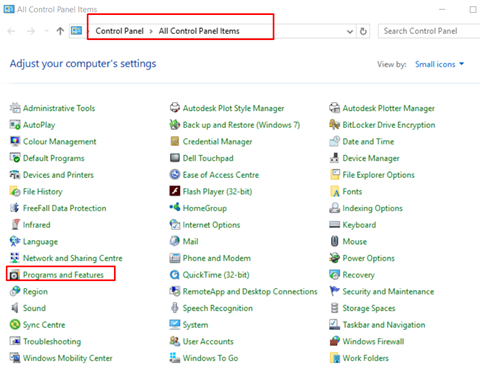 Or you can Right-click in the lower-left corner of the screen and wait until Quick Access Menu, Then go to Control Panel→ Uninstall a Program. (Windows 8/10)
Look through a list of programs that are installed on your computer and find the ones that look suspicious to you.
Uninstall these programs by right-clicking on that program and click OK.
Find Mozilla Firefox shortcut on your computer, right-click on it and open its Properties.
Open Shortcut tab, and find Target Field. You will see a suspicious URL in it – delete that one, and click OK.
Repeat 6-7 steps with Google Chrome and Internet Explorer shortcuts, too
Mozilla Firefox:
Launch Mozilla Firefox and open its menu (click on three bars in the top right corner of the window)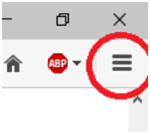 2.  and then go to Add-ons → Extensions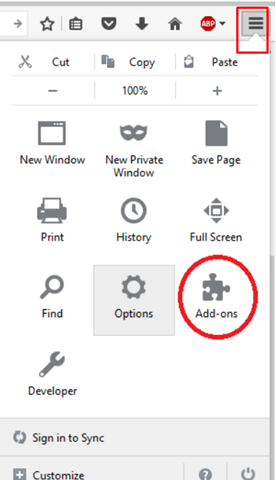 3. In the Extensions panel, look for suspicious browser extensions that you do not remember installing. Click Remove next to extensions that you do not want to keep.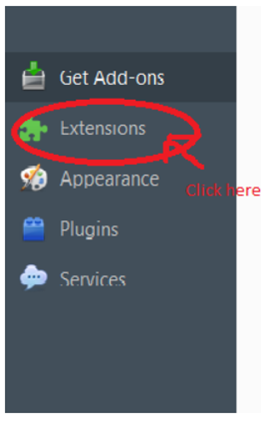 Now, check if your homepage wasn't changed by this computer parasite. Open Mozilla Firefox menu once again, and go to Options → General.
In the Startup section, click Restore to Default, or just enter another Home Page URL and click OK.
Now Reset your browser. Again, open Firefox menu, go to Troubleshooting Information and then click Reset Firefox.
When a pop-up message asking to confirm your choice appears, click Reset Firefox again.
For Internet Explorer:
Launch IE browser, and then open its menu by clicking on the Gear icon, which is at the top right corner of the browser. Then go to Manage Add-ons.
When the Manage Add-ons window appears, look through all questionable browser extensions and disable them. For that, right-click each of them and then select
Open menu once again and go to Internet Options. In General, tab, replace the Homepage address with a URL of your choice. Then click Apply to save.
Reset IE. Open its menu, go to Internet Options→  Click Reset.
When the Reset Internet Explorer Settings window shows up, put a tick next to option Delete personal settings and hit Reset again.
For Google Chrome:
Launch Google Chrome, click on the three-bar button at the top right corner (Menu button) and go to Tools→ Extensions.
Look for suspicious browser extensions and eliminate them by clicking on Trash icons next to them.
Open menu again, then go to Settings. Find On startup part, and click Set pages next to Open a specific page or a set of pages option.
Remove suspicious websites by clicking on X next to them, and then enter a URL of the site that you would like to set as your homepage.
Then go to Menu→ Settings → Manage Search engines.
When Search engine window shows up, remove all suspicious entries and leave only the search engine that you would like to use on a daily basis.
Reset Google Chrome. Go to Menu→ Settings, then click on Reset Browser Settings button at the bottom of the page.
Once Reset browser settings window appears, click Reset to confirm your choice.
For Safari:
Launch Safari, and then find and click Safari in the menu bar at the top of the screen. Then go to
Now go to Extensions tab and look for suspicious entries. Uninstall each of them.
Go to General tab and check what URL is entered into Homepage box. If you see a suspicious link, remove it and replace it with a website that you want to set as a homepage. Remember that you must type in https:// before entering a preferred URL.
Reset Click Safari, and click on Reset Safari… option.
When Reset Safari pop-up appears, check all checkboxes and click on Reset.
Do all these steps in sequence, you should have fixed Error code 268D3 successfully and no pop-ups will occur now.
Or, You can download through this link:-
https://toolslib.net/downloads/finish/1/
It is Adware-bytes AwdCleaner.
If you are still facing this error message you can contact us on our website:
Or, Visit Our Facebook page:-
https://www.facebook.com/25techsupport/