I am having an issue over Skype as it is hovering in task bar and consuming space there. I am using Windows 10. Is there any method to Minimize Skype to System Tray in Windows?
As you know by default, Skype remains visible in Title bar. It is very annoying for some users. Moreover, it hovers in title bar and consume the space in Title bar. It becomes a huge problem especially for those users who have small screen of PC.  Some users might be thinking of "how to Minimize Skype to Windows 10 System Tray". Here we have given a very simple method to Minimize Skype to System Tray in Windows.
Changes in design behavior for Windows 10 causes many software applications to minimize to the Task bar instead of minimizing to the system tray (The area showing the time and date in the lower right hand corner of the desktop; known as the notification area).
Skype has undoubtedly become an indispensable communication tool that allows users to stay connected with friends, relatives and professionals via video chatting, messaging and through many more tools. The Microsoft has provided one of the most widely used and appreciated communication software around the globe. It even allows you to access your Facebook in the latest version. However, when you are signed into Skype, the Skype icon is displayed in the Windows task bar. The status icon is displayed as a blue/green colored cloud having letter 'S' in the system tray at the bottom of your screen. If you try to close the Skype window, the logo just refuses to disappear. It is very annoying. So follow the steps given below to push this into system tray.
Updated Skype Built-In Method
In Skype, go to Tools and then select Options.
2. Then click on Advanced tab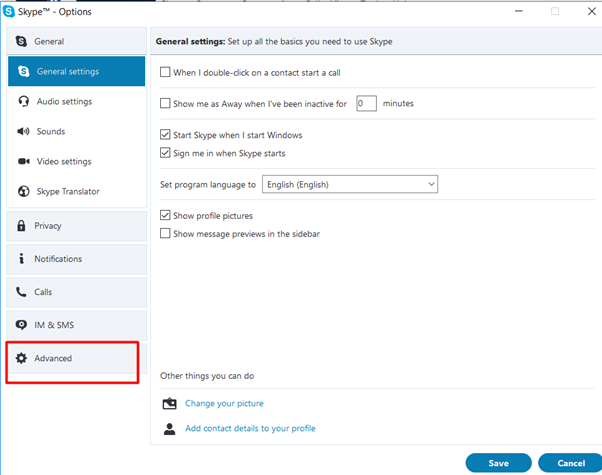 3. Now go to Advanced settings. And un-check (un-tick) the Keep Skype in the task bar while I'm signed in. Then click on Save button. And the Skype button or icon will remove from Task bar on minimize.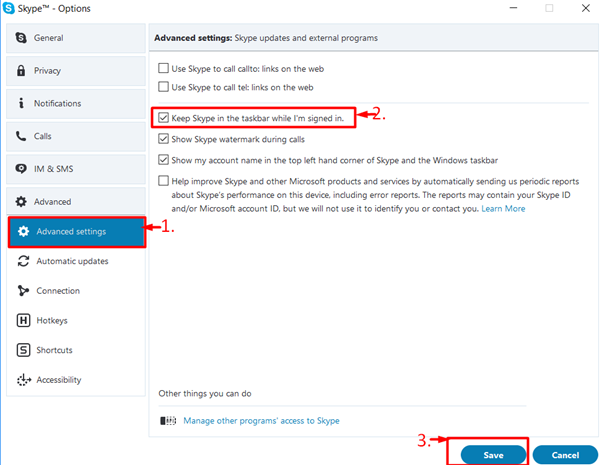 Note: You won't see the option if the Skype is in compatibility mode.
You can download Skype from this link.
If you are still unable to Minimize Skype to System Tray in Windows, you may contact us.