I re-installed Windows 10 but didn't RESET my PC but reinstall from scratch now I am now trying to create a System Image, but I can't. E and D both drives are empty. How can I get rid of this issue?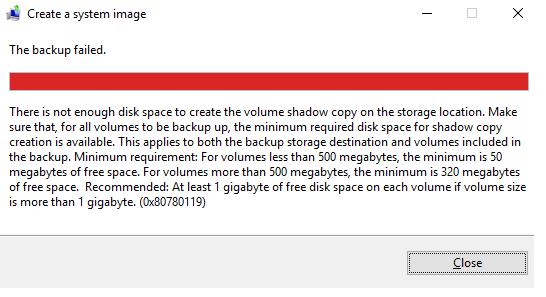 The message that you're getting is due to the issue on the source partition. As we all know, Windows has its own built-in back-up and restore tool for full system image backup that helps to restore the system to its original status in case windows get corrupted. The disk space you require to create a backup system image refers to not only the regular partition of your Windows operating system, but also the volume shadow copy of the image. It must be noted that the minimum requirement for volumes less than 500 MB is 50 MB of free space, and for volumes more than 500 MB is 320 MB of free space. Now, to sort out this error message, you can follow the solution below:
Solution: You should clear the USN Journal Files with following the given steps: –
Press Windows + R, type diskmgmt.msc on the Run dialog box, then press Enter. This will open the Disk Management.                                                                                                             
Right-click the system reserved volume and select "Change Drive Letter and Paths" to allocate the drive.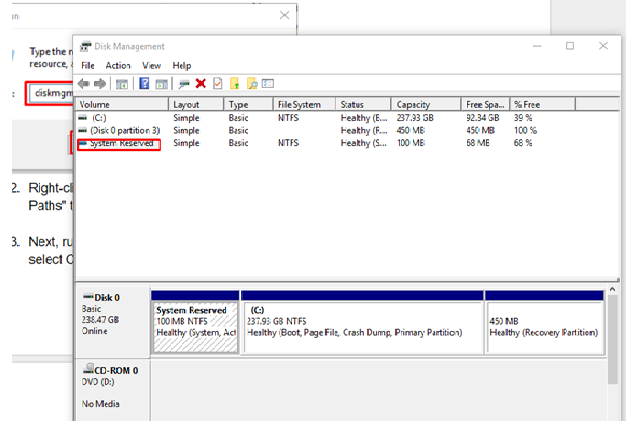 Next, run the Command Prompt as Administrator. Press Windows + X, then select Command Prompt (Admin).
Type the command:- fsutil usn queryjournal <VolumePath e.g. (E:)>.
Type fsutil usn deletejournal /D /N <VolumePath>
Remove the drive letter from system reserved partition.
Now you can create a system image successfully without receiving the error message in Windows 10.
Method 2: You may visit the official website of Microsoft forum to seek further help. Click the following link: https://answers.microsoft.com/en-us/windows/forum
If the issue is still same and you are unable to sort it out by any means, you can contact us for a more advanced solution:-
or