"Error code 0xE0000B54" has been popping up on a page that I have deleted earlier whenever I try to sync my notebook. Though syncing is proper.
The location is OneNote_RecycleBin/ (deleted section) but I can't find a recycle bin of any sort to try and delete the section again. How to sort out this issue?
Sometimes users may face this error code 0xE0000B54 even after they have deleted a particular page. You may follow the methods given below to sort out this problem.
Method 1:- Repair an Office Application:-
Step 1) Right-click the Start button Windows 10 (lower-left corner), and select Apps and Features on the pop-up menu.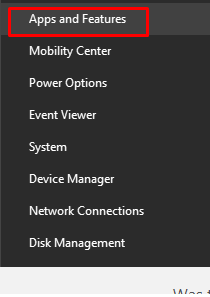 Step 2: – Select the Microsoft Office product you want to repair, and select Modify
Step 3: – Depending on if your copy of Office is Click-to-run or MSI-based install, do the following.

Now follow the instructions on the computer to complete the process.
How to check whether the office is Click on Run or MSI based here are the steps: –
Open an Office application, such as Outlook or
Go to File > Account or Office Account.
If you see an "Update Options" item, you have a Click-to-Run installation. If you don't see the "Update Options" item, you have an MSI-based install.

Method 2:-The another method you can try from the link given below https://support.office.com/en-us/article/Fix-issues-when-you-can-t-sync-OneNote-299495ef-66d1-448f-90c1-b785a6968d45
Solution 3: Restart your computer or device – Simply restarting a device may fix a sync error.
Method 4: Empty your 'Trash' notebook – Sometimes a note in your 'Trash' notebook will cause sync problems. In this case, emptying the 'Trash' may resolve the sync issues.You can not restore notes after emptying them from 'Trash'.
If none of the methods is working, just uninstall the Microsoft office and again install the fresh one from a registered website.
or visit our Facebook page