I am trying to install a language pack for windows 10 but getting an error code 0x800F0908. I am unable to download the language pack for my computer has windows 10. How to install it?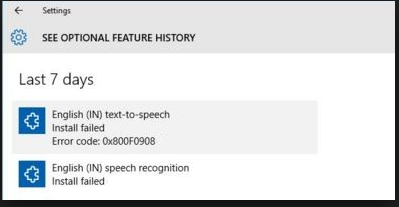 Fix error code 0x800F0908 while language Pack Installing, To add a new language in Windows 10, you've to simply open Settings app and go to Time and language > Region and language and click on Add a language.  However, sometimes this simple task may turn out into hair snatching task when we get some error codes. And we can't choose the language. You need to Install Language packs to use windows 10 in a preferred language. However, when you try to install the Language Pack, Windows 10 Users get Error Code 0x800f0908. It prevents the Download and installs.
Mostly the users with WI-Fi Connections face this error Code as they set their WI-Fi network to Metered Connection. This error also may appear during installation of speech recognition. Sometimes you encounter the same issue while trying to install Basic Typing and optical character recognition. You can follow the methods given below to sort out the issue.
Note: – However before proceeding to the following methods, make sure that you don't have any data restriction on your PC.
Method 1: – Turned the Metered connection off to sort out error code 0x800F0908: –
Step 1) Go to Settings > Network.
2) Wi-Fi > Scroll down to Advanced Options.
3) Click on Metered Connection > Turned it OFF.
And now download the pack again and you will not get back that error.
Method 2: – Repairing the corrupt files: –
If an issue is still same you can run SFC Command or DISM command. It will finally fix corrupted system files automatically and solve any errors which were caused by these damaged system files. https://www.xtremerain.com/repair-corrupted-system-files/
Method 3:- You can fix this issue by downloading Max Utilities from the link given below:- http://www.vsksoft.com/maxutilities/
Furthermore, you may just go through the solution provided in the following website:-
https://www.kapilarya.com/cannot-install-language-packs-in-windows-10-error-0x800f0908
However, if you are facing this issue, you can directly contact us on:-
Or may visit our Facebook page:-