As I am opening my Outlook 2010 and trying to get my email from comcast.net. It is giving Internet security warning issue in Outlook. The complete error message is "The server you are connected to is using a security certificate that cannot be verified. The target principal is incorrect".
I have attached a picture of the Internet security warning issue in Outlook. Suggest a solution for this problem?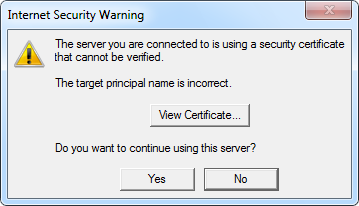 Internet security warning issue in Outlook is mainly a configuration issue with your MS Outlook e-mail program. Follow the steps given below to sort out the issue with internet security issue in Outlook.
Note: Make a note of the account settings for the email configured in Outlook before making any changes. If the method given below does not allow you to send/receive emails, restore the original account settings.
Method: Changing SSL Settings to fix Internet security warning issue in Outlook:
Open Outlook on your PC
Go to File and then select Information
Now go to Account Settings and select Email accounts
Click on View or change Existing Email accounts.
Double-click on the Email account and select More settings
Now choose Advanced and  uncheck 'This server requires an encrypted connection (SSL)' for outgoing server (SMTP). Also change the value of the port number to 25 or 1025.
Finally, after doing that, go back to the "Outgoing Server" tab. And make sure "My Outgoing Server (SMTP) requires authentication" is checked. Here "use same settings as my incoming mail server" must be selected. Also make sure to select "None" from the pull down menu for "Use the following type of encryption connection".
 You can verify if using any self-signed certificate in Outlook. To locate the certificate stored in Outlook, click on
Go to File and select Options 
And then go to Trust Center 
Select Trust center Settings 
Now select E-mail security
You can visit the link for help
If Internet security warning issue in Outlook still occurs, you may contact us.
Comments
comments