I am getting an error code: 0x85050041 while syncing the mail App. The complete error message was :
Error code 0x85050041
"Something went wrong…
we can't sync right now. But you may be able to find more information about this error code at www.windowsphone.com."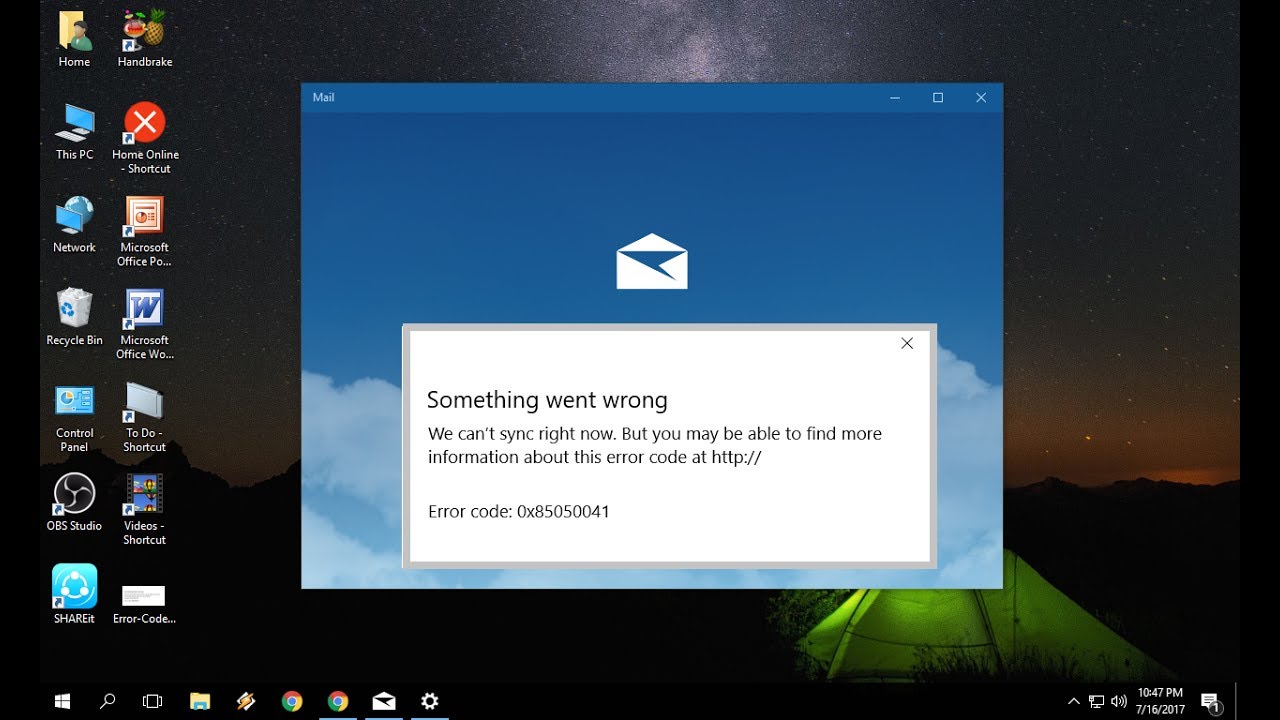 You may face error code 0x85050041 if you have installed any corrupt app or there are any incorrect app settings.
Error code 0x85050041 occurs while syncing email app.
Try the steps listed below to resolve this issue:-
Method 1: Run The Troubleshooter:-
First of all, run the app troubleshooter and check whether the problem has been solved or not. Click the link given below:
http://windows.microsoft.com/en-us/windows-10/run-the-troubleshooter-for-windows-apps
Method 2: Settings on Mail app:-
Step 1) Open Mail app and go to Settings (left column bottom right)
2) Now open Accounts and select the Account causing an error.
3) Select Change Mailbox Sync Settings
4) From 'Download email from' drop down menu select 'anytime', press Done and then Save.
5) At the end just restart your Computer.
And still, if the issue persists, you can simply Restore computer to a date that is before your last e-mail. This will also help to get rid of this problem.
Method 3:- Switching the Account
To sort out this problem you can switch the account. As you can't delete the Hotmail account from Mail. And you can't uninstall and reinstall email.
1) First of all, go to User Accounts.  Switch Account to Local (everything stays intact).
2) Open Mail and Delete offending Hotmail account.
3) Restart PC (to clear any residual cache).
4) Finally, switched the account to MS Mail will work with MS account.
Method 4:- Another method you can try is:-
Step 1) First of all, launch the app and minimize (not close!) it.
2) Now open the task manager Ctrl+Shift+Esc.
3) Select the "Details" tab.
4) Navigate to "HxMail.exe"
5) End the process. And then Restart the app.
Note: – The most noteworthy thing is this method no 4 will work only if you have an internet connection.
Method 5:- Disable the Proxy Setting:-
At the end, if no methods are working you can go through this one.
First of all, press Windows Key + R to open run command, type cpl
Under Internet Options, go to Connections
Click on the LAN Settings
And unchecked the option Use a proxy server for your LAN.
Finally, click on Apply.
And you may also go to the solutions in the link given below:-
https://appuals.com/fix-windows-10-mail-error-0x85050041/
However, if the problem still persists, you can contact us:- www.25dollarsupport.com
Or
https://www.facebook.com/25dollarsupport
Please do not hesitate to contact us if you have any further questions.