I am getting an Error code 0x80073712 whenever I am trying to update windows on my PC. How can I remove this error?
Users get this Error code 0x80073712 if there are damaged or missing Windows update files. Sometime corrupted Component-Based Servicing (CBS) manifest is the reason of Error code 0x80073712 . It may look like: –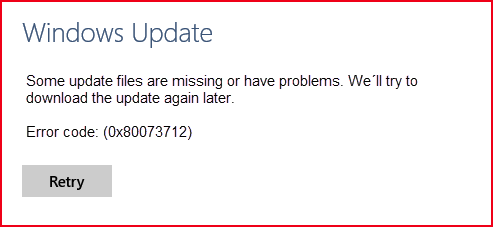 To remove this error, you can follow the solutions given below: –
Method 1: – Media Creation Tool: –
First of all install the update on my PC, download the media creation tool, then follow the instructions under Upgrade to Windows 10 using the tool.
Run the Media creation tool.
Select Create installation media for another PC.
Choose your language, edition, and architecture.
Follow the steps to create the media, and select Finish.
Insert your USB drive or DVD into the device you want to upgrade, then select setup.exe.
Make sure to remove the USB drive or DVD after the upgrade starts, and before the installation restarts your device for the first time.
If you don't have the most current version of Windows 10, use the Update Assistant to get it: https://www.microsoft.com/software-download/windows10
Note : – When you click on Update now, the tool will download and run.
Proceed for the next method only if the 1st one does not work.
Method 2: – Windows Update Troubleshooter: –
Download the Windows Update Troubleshooter, and then select Open or Save in the pop-up window.

Note: – If you select Save, you need to go to the folder where the troubleshooter is downloaded to, after the download is complete. And then double-click the latest wu.diagcab file to run the troubleshooter.

Select Next and follow the steps in the wizard to find and fix problems with Windows Update .
Method 3: – If you are unable to fix Error code: 0x80073712 you may go through the solutions given in the link.  Furthermore, you can also try the methods given in this link
However, if you are still unable to fix Error code: 0x80073712, you may contact us.
Comments
comments