I bought a new computer with windows 10 64 Bit and installed new drivers for the printer. I installed HP Print and Scan Doctor also. The printer I am using is HP LaserJet p1006. I am unable to connect it though I can see it attached to my computer. Sometimes it is going to sleep or sometimes it is going offline and sometimes it is showing an error message "the device is not recognized in USB port". How can I solve this problem of Unable recognize printer?
As you are unable to connect to your printer though it is visible on your computer. The error Unable recognize printer occurs due to unupdated drivers. First of all, you have to uninstall the drivers and reinstall them.
Step 1:- Uninstalling the Drivers to fix Unable recognize printer: –
1)If the printer is connected to a computer with a USB cable, disconnect the cable from the printer.
2) Search for Programs and Features and click on it.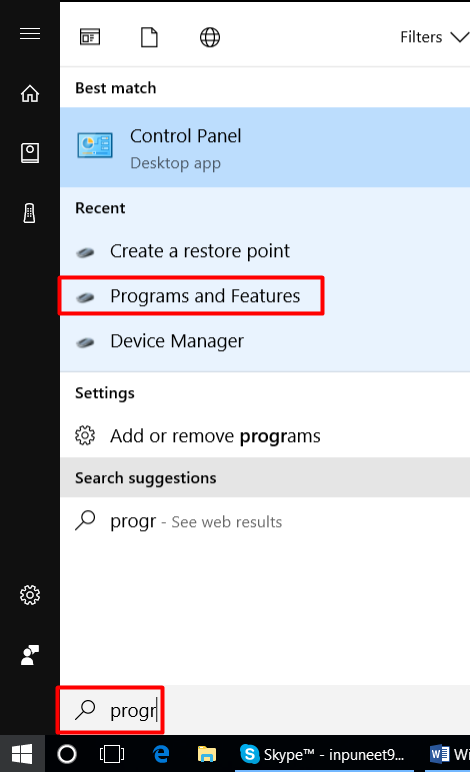 3)In the list of programmes, click on your HP printer name and then click on Uninstall and then press Yes. If any User Account Control message is shown click Yes.
4)Now follows the on-screen instruction to complete the software removal. After the software uninstalled restart your computer.
Step 2:- Remove the printer from the device list to fix Unable recognize printer: –
To complete the uninstallation, you must have to remove the printer and any windows print drivers from the Windows Devices and Printer list. Follow the given steps to complete uninstallation.
Make sure to turn on the printer. And keep it in a ready state.
If the printer is connected to the computer with a USB, disconnect the cable from the printer.
Again search Windows for devices, then click Devices and Printers in the list of results.
Right-click on the icon of the printer, click on Remove Device and then follow the instructions to complete the process.
Note: – If there are multiple icons for your printer, remove all of them.
Step 3 :- Remove printer driver files from Print Server Properties: –
Press Windows icon and R on your keyboard to open Run Window, Type 'printui/s/t2' without quotes and then press Enter. Or you can go to Start menu and open Devices and Printers. Select any Printer and click on "Print server Properties". Click on the driver
Now select the Printer Driver you want to uninstall.
Press the Remove button. And Select "Remove driver and Driver package"
Download and install the Drivers from the link: – 
https://support.hp.com/us-en/drivers/selfservice/swdetails/hp-laserjet-p1006-printer/3435682/model/3435683/swItemId/bi-55362-7
If the problem of Unable recognize printer is still unsolved, you may contact us:-
Or
https://www.facebook.com/25dollarsupport/
Comments
comments